Our technology
Unprecedented data pairing: the perfect combination between agronomics and remote sensing.
Using multi-sensor images (satellite, aeroplane or unmanned aerial vehicles) with agronomic algorithms developed by FARMSTAR's agronomic experts, learn how FARMSTAR's partners work together to provide farmers with data that can be used immediately in their plots.
A fleet of agricultural satellites
Airbus ensures the sustainability of its satellite fleet by studying and integrating all useful sensors for the highest quality and constantly evolving advice.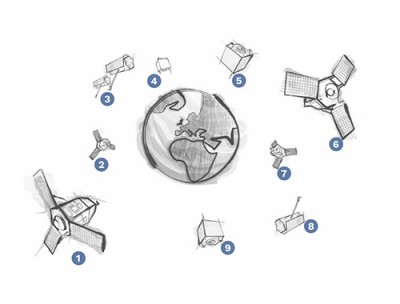 1 and 2 - Pleiades 1A launched in 2011 and Pleiades 1B launched in 2012: The Pleiades 1A and Pleiades 1B satellites operate as a true constellation on the same orbit, offset at 180° from one another. Perfectly identical, they provide very high-resolution optical imaging in record time, with a daily revisit capability over any point on the globe.
3 and 8 - TanDEM-X launched in 2010 and TerraSAR-X launched in 2007: TerraSAR-X and the TanDEM-X twin satellites fly just a few hundred meters from each other. Each of the three satellites acquires the widest range of radar images, from the highest resolution to the widest coverage – regardless of weather and daylight conditions.

These satellites are among the Airbus Defence and Space fleet, but they are not used in FARMSTAR.

4, 5 and 9 - NigeriaSat-X launched in 2011, UK-DMC2 and DEIMOS-1 launched in 2009: The DMC constellation offers good coverage and rapid revisit capability for the largest countries and entire continents. This is the optimal solution for estimating agricultural yields, assessing deforestation/monitoring fires and managing large-scale disasters.
6 and 7 - Spot 7 launched in 2014 and Spot 6 launched in 2012: Constellation SPOT 6 and SPOT 7 were specially created to effectively cover the planet's largest surfaces in record time. National base map series are now being updated to support large-scale land monitoring and mapping applications.
Also, Sentinel-2A, launched in 2014, and Sentinel 2-B (previously launched in 2016) by the European Space Agency (ESA).
Agronomic expertise
Agronomic experts from technical institutes (Arvalis - Plant Institute and Terres Inovia) and from Airbus Defence and Space, work together to develop agronomic algorithms to accurately determine the needs of plants at key stages of their growth in order to provide reliable and optimal advice.
FARMSTAR: state-of-the-art technology
Through a combination of Airbus Defence and Space's unique expertise in analysing remote sensing images and the agronomic expertise of the Arvalis – Plant Institute and Terres Inovia technical institutes, FARMSTAR provides a useful and innovative service that is economical and easy to use.
Image acquisition: FARMSTAR images are acquired at key stages of plant growth via satellite, aeroplane or drone for precise advice specific to the needs of crops.
Processing chain: Airbus Defence and Space have established a unique processing chain to analyse the acquired images, regardless of atmospheric conditions, in order to produce reliable and comparable biophysical parameters.
Intermediate products: Intermediate products (biophysical parameters) help to describe the physical characteristics of the crops, such as the biomass and the chlorophyll content of plants, in absolute terms.
Climate data and agronomic models: The biophysical parameters are then used in agronomic models, which include the crop characteristics of each plot, as well as the climate and meteorological conditions from sowing, to generate recommendation maps tailored to each plot.
Expertise from agronomic institutes: All plot-specific advice is validated by experts from the Arvalis – Plant Institute and Terres Inovia technical institutes before delivery to the farmers.
Advice map: Recommendation maps are then delivered to farmers through the secure FARMSTAR web portal, the organisation's extranet or by postal mail.
Disease alerts: Farmers receive disease alerts to ensure preventive treatment in high risk cases.
9. and 10. Variable rate application map, Customised support and Field application: Farmers receive customised support from the organisation's technicians for the direct application of the advice on their plots. An automatic variable rate application is available for advice involving a field application.